Local Favorites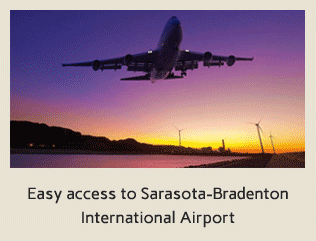 Welcome to Quality Inn Sarasota North Near Lido Key Beach – perfectly located close to the local universities, tourist attractions and the airport. The great rates at this Sarasota, Florida hotel mean you always get your money's worth and more.
Consider making us your Sarasota North hotel near Lido Key Beach for a great stay. We're also close to Siesta Key Beach, University of South Florida, Ringling College of Art and Design, New College of Florida, Sarasota-Bradenton International Airport, Ringling Museum of Art, Mall at University Town Center, Sarasota Classic Car Museum, Sarasota Jungle Gardens and Mote Marine Laboratory & Aquarium.
To help you get the most from our hotel in Sarasota, Florida, we provide amenities that include an outdoor pool and sun deck, free coffee in the lobby, a free weekday newspaper, free parking, free wifi, free continental breakfast, guest laundry facilities with valet cleaning service and other features you may want to use. In your room, expect a great bed and shower plus a 39-inch flat-screen television, coffee maker, microwave, fridge, iron and more.
At Quality Inn Sarasota North Near Lido Key Beach, we look forward to serving you well. Please make a reservation now for the best rates and availability – and we'll see you soon.
Business Stay
When you want an affordable Sarasota US Highway 41 hotel or a place to stay near the airport, Quality Inn Sarasota North Near Lido Key Beach is for you. As the business or pleasure hotel with the best price in the area, we specialize in meeting your needs while keeping our prices low and sensible. Plus, most attractions are surprisingly close to us – if you should have some downtime. People often choose us as tops among Siesta Key Beach nearby hotels, for example. Please book one or more nights with us and see for yourself what this amazing city has to offer. We would appreciate the opportunity to be of service to you and your traveling companions.
Family Stay
Looking for hotels near Sarasota Raymond James Stadium, the local beaches and other attractions – a place where you can get the best possible hotel deal? If that's the case, it makes sense to consider this Quality Inn. We want to serve you no matter what brings you to town. This property is the best of the hotels in Sarasota, Florida for comfort, convenience and a great deal for families. We want you to feel you've received the best experience for your hotel dollars, so we offer amenities like free wifi, free breakfast and a seasonal pool. Everything we do is aimed at making your stay as good a value as it is comfortable and inviting.
Affordable Stay
At this Quality Inn, we're here for you when need or want to stay in our area – with a comfortable and affordable night's sleep that will allow you to wake up fresh every morning. Plus, we're the place you can depend on when you need Sarasota hotel near University of South Florida or indeed Sarasota Convention Center hotels. We shop around to make sure we're priced below our comparable competitors so we're sure you're always getting maximum value – and maximum comfort too. Please book with us right away to avoid any disappointment. It's a smart decision sure to serve you well. We look forward to the pleasure of accommodating you sensible and affordably.
Safe & Peaceful Stay
Looking for a Sarasota US Highway 41 hotel that put safety front of mind? Want a room at the most sensible and affordable price available hotel near Sarasota-Bradenton International Airport or the beaches, for example? For a safe and peaceful stay in a sane and sanitary environment, book with us at this Quality Inn without regret. Local hotels can vary in quality, sometimes even from trip to trip, as you may have seen if you've stayed with some of our competitors. But you don't have to settle for something noisy, dirty or unsafe. You can have the good experience you desire when you stay with us – and have a great time too. We take you and your satisfaction seriously.